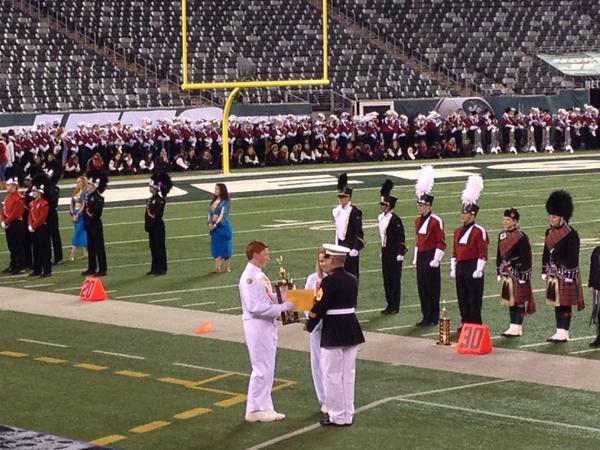 Wildcat Marching Band
: When I got the word from New York City that our Marching Band had taken second place overall in their competition, that included over 60 Marching Bands from five states, the first word that came to my mind was "representing". As always, the band has represented our community very well and at an exceptional level. With over 160 students in the band, it is loud, clear, organized, tight, and a pleasure to watch. You can see them at the NYS Field Band Championships at the Carrier Dome on Sunday, October 28, 2012. Information about the event can be found on our website.
Landmark Theater
: If you are from Syracuse you know how much history the Landmark Theater contains. It was great to be back in the Landmark to see
Jersey Boys
over the weekend. I have probably been to over a dozen shows and concerts in the Landmark since the 1980's, and I had just as much fun soaking in the nostalgia as I did watching the show. My wheels are turning to find some way to get our students performing on that stage in the future.
Parent Portal
: As promised, we are beginning to roll out parent and student access to our student management system, Schooltool. Parents will be receiving their welcome and access e-mail messages shortly. This is an exciting part of this powerful program that is a great benefit to both students and parents.
Redistricting Transition Meeting
: After what I am sure will be a delicious spaghetti dinner sponsored by the Sports Boosters tonight night, the first redistricting transition team meeting will be held. There will be 26 of us gathering to plan activities for both students and parents who will be redistricted. Meeting minutes will be placed on our school website and can be viewed by clicking
here
. I will also update all of you with the master plans via my blog as well.
Full-Day Kindergarten Transition
: The transition process to full-day kindergarten has also begun. You might ask yourself how difficult that could be. It won't be if we get a jump on it now as we prepare for the next school year. Full-day kindergarten will not simply be double what we have been doing during our half-day program. It will mean different curriculum, more special area experiences, and more opportunities for socialization. All of these things will help our youngest students be that much more prepared for first grade.
Upcoming Fall Sports Playoffs
: Keep an eye on our SNN emails and our website for fall sports playoff and sectional schedules. Details will be emerging as early as later today, and the students always appreciate the extra support that you give.
Thank you and have a wonderful week!
Chris