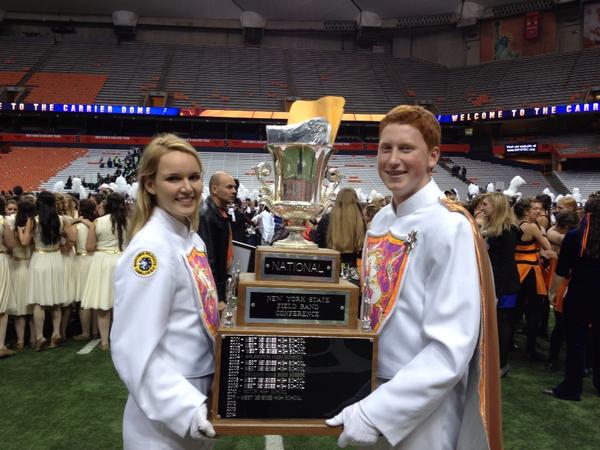 Marching Band Win 32nd State Title
- Dedication, precision, repetition, and heart have paid dividends again. The West Genesee Marching Band rocked the Carrier Dome like a hurricane (yes, my musical tastes are still living in the 1980's)! I was so pleased to watch the students perform at the highest level, yet again, to bring home the New York State Field Band Championship for the 32nd time with a score of 97.6 (a full 2.6 points ahead of Norwalk in 2nd place). I am just so happy for the students, the Marching Band staff, and the many dedicated parents who get an opportunity to see all of their hard work pay off. Planning for next year begins today. Congratulations!
Hurricane Sandy
- Speaking of hurricanes, I must admit that it was pretty weird to finalize our school closing contact information sheets last week. This is usually a task that is completed well into November, but the threat of Hurricane Sandy shortened our timeline. I have been a superintendent when the threat of very bad weather has actually happened, and when it has passed by. In fact, I still have the six inch stick that landed on my deck as a result of Hurricane Irene some years back.
The bottom line is that with all of the communication tools that are available, we are going to get a lot of information about each and every potential weather event. It is probably wise to plan for the worst and hope for the best, and I hope that there are no additional causalities as a result of this storm. I would say that if I owned a grocery store I would have purchased about every advertising spot before and after every weather report on every local station!
Redistricting Transition Planning
- This week we will finalize our transition planning for redistricting. I must say that the transition team is doing a very thoughtful job of planning activities that will help to relieve some of the anxiety related to redistricting. I will give a full recap of what is planned as well as some general timelines next week. For now, everything that the committee has been working on can be located on the website by clicking
here
.
This week our teachers and administrators will complete the creation of their goals, fall sports will officially come to a close, and we will begin to transition into concert, middle school musical, and winter sports season. Have a great week.
Chris